BACKGROUND
My name is Pangfun. I started playing music since I was 5 years old when my father put a guitar in my hands. He taught me how to play guitar, piano, keyboard, drum, and violin at an early age. Since then I continued to learn and improve my skills and love for music and eventually admitted into the best music college in Thailand – College of Music, Mahidol University – on a full-ride scholarship at the age of 16.
15+
YEARS OF TEACHING
EXPERIENCE
2010
STARTED MY STUDIO
IN BANGKOK, THAILAND
2020
STARTED MY STUDIO
IN FAIRFAX, VIRGINIA, USA
CAREER
I have more than 15 years of teaching experience in the violin, viola, and piano to people of all ages from beginning to advanced. To share my passion for music, I opened a private music studio in 2010. My students range from 4 to 70 years old. Many of them come from different countries – France, Netherlands, USA, China, South Korea, Japan, Philippine, Thailand – and backgrounds.
Everyone has a different goal on why they want to learn music whether that's for pleasure or for competition or for performance or for examination. I tailor-make the curriculum and adjust my teaching method to best help the student achieve their end goal. For someone to be well-rounded in music, I'll make sure my student understands not just playing songs, but also the technique, in theory, musicality, ear training, etc… My students are consistently getting first place in the competition and the highest mark in music examination from Trinity College London Music/ABRSM, etc…
In 2020, I started a new music studio in Fairfax, Virginia, USA.
5
YEARS IN A ROW
AWARD FOR EXCELLENCE IN MUSIC TEACHING FROM TRINITY COLLEGE LONDON
2014-2018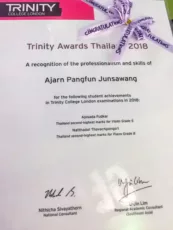 Past Student
ACHIEVEMENTS